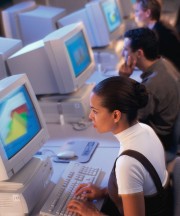 At HAL Systems LLC, our focus is on making your
Microsoft Windows network work for your
business in a straight-forward, cost-effective manner.
We will show you how a professionally managed Windows network can maximize your productivity while keeping costs at a minimum. We accomplish this goal with our 3 phase network administration plan:


We will perform a complete on-site evaluation of your existing network or, if you currently have no network, evaluate your need for a new network based on your current and future information management needs and goals. You will receive a written analysis with recommendations and all costs involved.


We will upgrade your server(s) and workstations where practical, and/or install new equipment where necessary. HAL Systems LLC has been deploying high quality, high reliability servers and workstations for over 17 years. We are very experienced in network design, server/workstation installation, configuration and deployment. We also handle the latest technologies including server virtualization and NAS/SAN storage solutions using Open-E* storage solution software.


Every network requires maintenance and administration. However, most small to mid-size businesses do not require full-time administration, which is usually very costly. Full-time network administrators can draw salaries of $50,00 to $80,000 or more depending on their level of expertise and experience.

HAL Systems LLC' method of network administration can result in significant savings by utilizing state-of-the-art remote administration technology. Monitoring and maintenance of virtually all software and functionality of your network can be done right from our facility. Other tasks that cannot be performed remotely will be done on-site by our technicians. HAL Systems LLC handles all the tasks needed to keep your network running smoothly and efficiently. We handle the following administrative duties for your Windows network:
Server data tape backup monitoring
Security updates on O/S software on servers & clients
Anti-virus updates on servers and clients
Data storage capacity monitoring
Application software updates
Firmware and BIOS updates on hardware
E-mail administration
User account administration
Network Internet access administration

.... and more. By having our professionals remotely administer your entire network, you eliminate the costs of having the need for a full-time network administrator on staff. Moreover, much of the work that we do is performed after hours so that your work is not interrupted during the day.

Contact HAL Systems LLC and let us show you how we can save your business thousands of dollars in network admin costs each year.

---

Open-E, Inc is a leading provider of unified file and block storage management software solutions. The Open-E Data Storage Software (DSS V6) offers support for Network Attached Storage (NAS), iSCSI, InfiniBand and Fibre Channel SAN (Storage Area Network) functionality all in a single, easy to use storage application. Open-E DSS also provides, Automatic Failover and Failback for high-availability, Remote Mirroring for disaster recovery, WORM (Write Once Read Many) support for digital archiving, and NDMP (Network Data Management Protocol) support for universal backup - ensuring better data security, increased fault tolerance, and improved availability of all data, ultimately delivering better overall performance and value.